#3 – GetBucks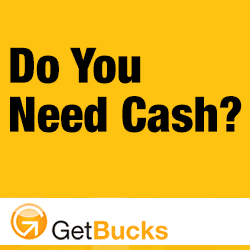 GetBucks is the latest challenger Brand in the local payday loans market, offering loans of up to R4000 for first time applicants!
R4,500 for new customers!
Instant decision 24/7 & NO paperwork
45 days to repay
GetBucks is another good provider offering online payday loans in South Africa. Unlike Wonga and Boodle, you can get up to R4 000 from Getbucks as a first time applicant, which is quite a jump from the R2500 we normally see on offer. Getbucks also has sites across Botswana, Zimbabwe and Kenya it looks focused on becoming a major player in the payday loans niche.
How to apply for a Getbucks loan
STEP 1:
The loan application process on Getbucks starts the same as we have come to expect, with the customary "online slider" solution to easily set loan amount and repayment period [NOTE: please take care when selecting your repayment data and make sure that the funds will be available in your account on that date!].
You select your preferred amount and hit APPLY.
STEP 2:
The next step takes you to a login page, which is unusual but shouldn't scare you off!
Just enter your email and perferred login and click REGISTER. Make sure you use an email that's not already registered and include leters and numbers in your password!
STEP 3:
You are now presented with the standard form to be filled out, which covers the terms of your loan, your personal details, as well as any additional details Getbucks require to evaluate your loan application.
Ensure you have such details as cellphone number, passpart/ID and employer details at hand to make this process super simple!
GetBucks is a registered Credit Provider with the NCR and also subscribes to the general code of good credit practice as indicated by the National Credit Act.
GetBucks Costs & Charges
GetBucks is the only payday loan provider to provide loans of up to R 4000 for new customers. With this, they also allow for a longer repayment window of up to 45 days. This is great, but please remember that the extra days will cost more and factor this into your loan application!
There is a daily service charge, which adds up to R50/month as well as a basic service charge of R150 per application. On top of this, Getbucks charges 10% of the loan amount above R100 up front and interest is calculated at 0.16% per day!
A R1000 loan over 31 days will cost you R 1299 in total [R1000 loan + R299 in fees!
GetBucks Review – Final Verdict
Getbucks offers higher initial loan amounts and longer repayment periods, however they're application process isn't as straightforward as Wonga for example.
They are also slightly more expensive for lower amounts, which makes them less competitive at lower loan amounts – great if you need a loan of more than R 2.5k – if not, you're better off with one our other payday loan providers.